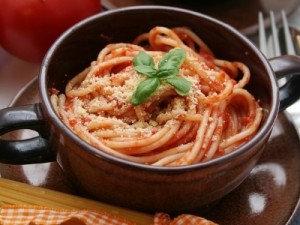 Dziś chciałabym przedstawić Wam przepis na Spaghetii Bolognese nieco inne, niż to, które się robi na co dzień i inne, niż to, dostępne w proszku czy w słoikach w Biedronce 🙂 Otóż, będzie to spaghetti, którego sos będzie oparty na sosie beszamelowym. Jednym z wielu pozytywów tego przepisu jest szybkość wykonania. No, to zaczynamy 🙂
Przygotowujemy porcję dla czterech osób. Potrzebne nam będzie opakowanie makaronu do spaghetti (400 lub 500 gramów), pół kilograma mięsa mielonego z szynki lub łopatki (najlepiej zmielonego samemu lub na naszych oczach w sklepie), 300 gramów sera żółtego (do potarcia), litr mleka, słoik koncentratu pomidorowego (najlepiej Pudliszki, ale inne też się nadadzą), 50 gramów margaryny, 2 łyżki mąki i przyprawy.
Możemy przygotowywać równolegle i makaron (gotujemy do momentu aldente) i mięso (smażymy je na patelni razem z solą, magi i pieprzem) i sos. Aby przygotować sos, należy rozpuścić margarynę, a następnie wymieszać ją z mąką, gdy się lekko przysmaży, dolewamy mleko i dodajemy przyprawy (magi, sól, pieprz). Po zagotowaniu i zgęstnieniu dodajemy przecier pomidorowy i mieszamy szybko i dokładnie, aby się dobrze wymieszał. Gdy już będzie wymieszany, próbujemy i ewentualnie dodajemy resztę przypraw.W wolnej chwili trzemy ser.
Et voila. Pozostaje nam tylko podanie. Najlepiej najpierw nałożyć makaron, następnie sos, mięso i na końcu posypujemy serem.
Smacznego! 🙂